The world is changing – and we'd better get used to it because electric cars are here, and they are here to stay.
Gone are the days of choosing a vehicle because of its MPG (Piles Per Gallon) or KPL (Kilometers per Liter), now it's all about the range, charging times and how long you're going to wait for it to reach 100%.
Over the past few years, the market has been flooded with brand new models from all the major manufacturers all trying to convince us to embrace the EV market. They're becoming more practical, faster and will go even further on a single charge as time goes on. So, when it comes to choosing one, it's become a bit of a minefield, to say the least.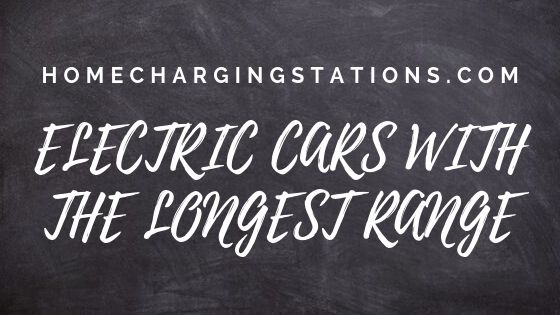 The Top 10 Electric Cars with the longest range that'll take you further than the rest
Here are our Top 10 electric cars with the longest range guide to narrowing down your search if you're in the market for a new EV and searching for a car that'll take you further than any others on the market.
1. Tesla Model S
Boasting the largest battery of any kind in an electric vehicle – at the top of the chart is the Tesla Model S. Tesla's first creation is still the best when it comes to a range-topping battery offering a whopping 375 miles (603 kilometers) to a single charge. However, this is based on the entry-level long-range model which gives the ultimate range, but speed freaks can choose the 100kwh Tesla which offers sports car performance, but the range suffers greatly.
2. Tesla Model 3
The masses wanted an electric vehicle they could all afford so Tesla delivered with the Model 3. Drivers of the 3 can expect to travel 348 miles (560 kilometers) which is comparable to any diesel or petrol car on the road – although its looks are much to be desired! Within a week of unveiling the Model 3 in 2016, Tesla revealed it had taken 325,000 reservations for the car. These reservations represented potential sales of over $14 billion.
3. Tesla Model X
Well, Tesla certainly has its fair share out of this top ten! They deserve it, as its second creation, the Model X not only features awesome scissor doors and seven seats, but owners can enjoy 315 miles (506 kilometers) to a single charge. The Model X also does a funky light and music show at the touch of a button, which is very cool!
4. Jaguar I-PACE
The most eagerly-awaited all-electric SUV of all time comes in at number 4. The 2019 World Car of the Year enjoys a total range of 292 miles (470 kilometers), a decent 20 miles (32 kilometers) more than its closest competitors in this list. The Jag also has satisfactory performance on its side as you would expect from a Jaguar. It's with 400PS, 690nm of torque, the I-PACE will reach 60 mph in just 4.5 seconds.
5. Kia eNiro
This 'Electric Car of the Year 2019' has certainly made some waves in the EV sector. A practical four-door hatchback, with fantastic looks and a seven-year warranty, the eNiro takes passengers up to 282 miles (462 kilometers) before running out of juice.
6. Mercedes-Benz EQ-C
One of the newest EVs on the market comes from Mercedes-Benz. It's the German carmaker's first electric vehicle and the boffins from Mercedes have certainly done the job well from the outset. With a 4×4 powertrain, the EQC will complete 280 miles (450 kilometers) from a fully-charged battery.
7. Hyundai Kona
Hyundai has enjoyed massive success with the Kona, the world's first fully-electric subcompact crossover SUV, as it offered a cost-effective all-electric SUV perfect for everyday driving. Totaling 279 miles (449 kilometers) per charge, the Kona is no longer available to buy and a waiting list has begun for the next version due probably in 2020.
8. Audi e-tron
One of the best looking EVs money can buy comes from Audi in the shape of the all-electric e-tron. Packed with space-age technology and futuristic looks, it delivers a range of a decent 249 miles (400 kilometers). The e-tron doesn't disappoint when it comes to power output. A 95kwh battery powertrain and 409PS, a spec which is almost comparable to the Number 1 in this list, the Tesla Model X.
9. Nissan Leaf+
No article on electric vehicles would be complete without mentioning the all-round good egg, the Nissan Leaf. It's been produced since 2010 and has got better and better as the years have gone by. Now offering a whopping 239 miles (384 kilometers) on a single charge, the Leaf has been one of the best selling EVs on the market with more than 300,000 units sold globally since its launch in 2010.
10. BMW i3
BMW will not be happy with taking 10th place in this list, but the i3 is somewhat of a dinosaur now in the land of electric vehicles. Saying that drivers of the i3 do actually achieve around 188 miles (302 kilometers) per charge so it's not all bad. For those wanting more range and not fused about using petrol, then the I3 can be purchased with an optional range-extending gasoline engine.
Here a short summary of electric vehicles with the longest range:
| Top 10 Vehicles | Range (Miles) | Range (Kilometers) |
| --- | --- | --- |
| 1. Tesla Model S | 375 | 603 |
| 2. Tesla Model 3 | 348 | 560 |
| 3. Tesla Model X | 315 | 506 |
| 4. Jaguar I-PACE | 292 | 470 |
| 5. Kia eNiro | 282 | 452 |
| 6. Mercedes-Benz EQ-C | 280 | 450 |
| 7. Hyundai Kona | 279 | 449 |
| 8. Audi e-tron | 249 | 400 |
| 9. Nissan Leaf+ | 239 | 384 |
| 10. BMW i3 | 188 | 302 |
In Conclusion:
Ultimately, most electric vehicles on the market now will offer more than enough range for a normal commute or family outing, so it's important to look at the whole charging infrastructure in your country to make sure it's easy to charge if you need to during your journey, to eliminate the risk of being caught out.
Things are changing rapidly in this market, so it's always a good idea to keep up with the latest releases – for the massive electric car fans, Tesla has promised to start production of its Roadster model in late 2020 with deliveries in 2021. The early stats released by the manufacturer are stunning with anything from 430 miles (692 kilometers) to a staggering 870 miles (1400 kilometers) on a single charge rumored on top of typically Tesla outstanding on-road performance.
However, prices for the Tesla Roadster are likely to be well over the $200,000 mark, but if the manufacturer can produce results as early figures suggest, then it'll certainly be a game-changer within the electric car market.