With the electric vehicle market rapidly expanding, and more brands offering all-electric and hybrid vehicles, it's little wonder that there is now a huge market choice for electric vehicle charging. While you may have initially thought that effective and efficient charging solutions were only found at public charging stations, there are actually many great home-based options, as well. After learning this, buyers may now be wondering where to buy electric car home charging stations, and in this article, we will endeavor to show you.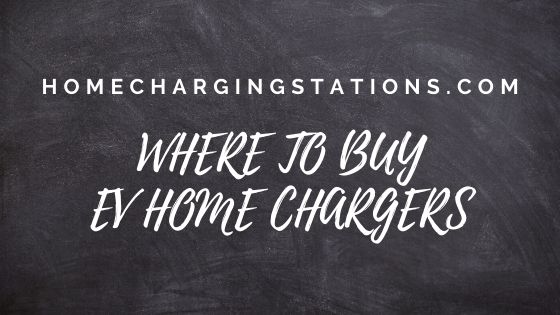 What kind of charger do I need?
Before you shop in any of the locations we list below, you'll need to know what kind of EV home chargers there are and what kind will work best for you. Broadly speaking, there are three kinds of charging stations: Level 1, Level 2 and level 3.
The first is a 120V system that connects straight to your regular wall sockets at home.
The second is a faster-charging 240V device that will charge your vehicle faster
The third is a high-cost and high-power version only really suited to commercial outlets, so we're going to rule this one out for this article.
Feel free to check our article explaining the difference between Level 1 and Level 2 charging stations for more details.
Let's turn now to where to buy level 1 and level 2 charging stations for your home. There are three main areas where you'll find the most choice and the best possible quality. These are on Amazon, through dealerships both online and offline, and at nationwide retailers.
Electric vehicle home chargers on Amazon
You won't be surprised to learn that Amazon has probably the most impressive range of home charging stations for EVs.
Summary: Amazon
Average price range: $178-1000
Featured brands: Siemens; JuiceBox; DUOSIDA; Zencar; Megear; ClipperCreek, BougeRV and more
Key advantages: Universal models available; free shipping available; home installation service possible
An initial search will throw up many great choices, but to give you one example, the BougeRV Level 2 EV Charger offers you a faster-charging speed than the factory-supplied cable and can be used across many models, like the Nissan Leaf, Ford Fusion, Toyota Prius Prime and others. You can also find Level 1 charging options if you need an extra cable on top of your factory issue or a replacement.
What's more, Amazon as a marketplace gives you unparalleled speed and value on delivery, with many suppliers offering free or cut-cost shipping.
Disclosure: some of the links below are affiliate links, meaning, at no additional cost to you, we will earn a commission if you click through and make a purchase.
Electric car home charging stations from dealerships
As the market widens and more brands off hybrid and all-electric models, EV home chargers are an increasingly common sight from car companies and their affiliated dealerships.
Summary: Dealerships
Average price range: $275-1130 (depends entirely on brand and service offered)
Key advantages: You get the genuine article; great model choice (Tesla, BMW, Nissan, Jaguar and more); home installation available; designed optimally for your car
When you buy from a dealership, one of the biggest advantages is an extra assurance of quality and the item being genuine and properly designed to suit your car. Don't forget that hybrid and electric vehicles usually come supplied with a Level 1 EV charging cable, which suits any 120V wall socket. Level 1 doesn't always offer the speed you need, however, so brands have Level 2 options, and often with home installation for extra convenience.
Take the Tesla options, for example. They offer (and recommend) drivers to use their Wall Connector device, which retails from their store at $500. If you're not able to accommodate this Level 2 option, then they also have the Mobile Connector charging line, which comes in a variety of connectors to suit your needs and costs just $275. Other well-known models include BMW's i Wallbox ($1,070) or i Wallbox Connect ($1,130), and Jaguar's systems installed by QMerit (quotes available on request).
EV home chargers from retailers
Even as online giants start to dominate the retail sector, many big-box chains are offering yet another place for eager buyers to get hold of home chargers for their electric or hybrid cars.
Summary: Retailers
Average price range: $309-778
Stores: The Home Depot, Lowe's, Walmart and others
Featured brands: Siemens (Versicharge); Webasto; ChargePoint;
Key advantages: No need to wait for delivery; you can pick one up with your next grocery shop or be delivered at home if you order online; in your local area and easy to return or switch out if you get the wrong one
Shop at The Home Depot or Lowe's and you can find numerous brand-name electric vehicle home charging systems. It's nice to be able to pick it up with the weekly shop and not have to experience any delay from delivery times. Better yet, if you need to return or exchange it you can also do that on the same day. Big names like ChargePoint (also used by big car brands like BMW), and Siemens on offer means you're sure to get great quality.
To conclude – it has never been easier
The question of where to buy EV home chargers is well and truly answered. With this many avenues, there's no doubt you can find the right combination of price, convenience, quality, and location to secure the perfect device for your electric vehicle parked up at home.